How to Clean a Deck (Don't Use Chlorine Bleach)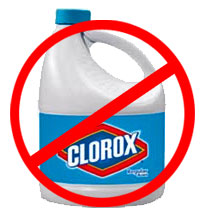 When it comes to cleaning your deck, some people might feel tempted to pull out some bleach from the garage and get started. Stop! Before you do this, you need to make sure that you are very careful. Chlorine bleach does an excellent job of killing bacteria and viruses, but has not been proven effective in killing molds on porous surfaces.  It also destroys the lignin in your wood deck, disrupting the way it is bonded together. The wood will become more prone to aging to an unattractive gray color and splintering along the surface. When it comes to chlorine bleach, think of it as a sanitizer, not a deck cleaner. It should stay in areas of the house such as the kitchen, on the counter, or in the bathroom cleaning surfaces there.
Chlorine bleach can cause  deck stains or sealers applied to the wood to fail. It will remove any natural color as well leaving you with a bland, unattractive color. Bleach itself is 99% water. Water is one of the main contributors of the growth of harmful bacteria and mold. The ionic structure of bleach prevents chlorine from penetrating into porous materials such as wood—it just stays on the outside surface, whereas mold has enzyme roots growing inside the porous construction materials—however, the water content penetrates and actually FEEDS the mold. This is why a few days later you can notice darker, more concentrated mold growing (faster) on the bleached area.
If you want to know how to clean a wood deck the right way, you should be using oxygen bleach. In all of your detergents in your laundry room you can find oxygen bleach. It cleans the fabrics without disrupting the color or damaging the fabrics. Usually it can be combined with water, applied, let sit, and rinsed off no problem at all. Oxygen bleach give you a clean deck and will not harm vegetation surrounding your deck, which is a huge plus and will save you time from covering your grass and landscaping to protect it.
Another plus to this type of wood cleaner is that most of the time, a power washer is not necessary in order for it to work. A simple garden hose is sufficient. The chemicals are powerful enough by themselves to do the work if allowed to sit for 10 to 15 minutes.
Oxygen bleach will actually help to preserve the life of your deck by not damaging the fibers and keeping the lignin that holds the wood together healthy and strong. Healthy, clean wood makes for an attractive deck. Remember that not just any bleach will do a good job at cleaning your deck and maintaining its health. Beware of any bleach with the chemical name sodium hypochlorite, this is chlorine bleach and will indeed damage your deck.