What Type of Deck Stain is Best For Me
As you may already know, there are three basic kinds of deck stains available on the market: clear, semi-transparent, and opaque stains. Although each type of stain will help to protect and prolong the life and looks of your deck, each different type of stain has a different reapplication rate and special characteristics.
Remember that before applying any stain, you need to clean your deck properly. Using an oxygen bleach and a garden hose as well as a little elbow grease will get your deck ready to be stained or sealed. Before applying any stain, perform a water test on the deck. Sprinkle water around on a few places on the deck itself. If the water does not sink in within a few seconds, then your deck will not absorb any stain. If your deck does not absorb water, you may want to invest in a stain stripper or other chemical remover for your deck. You can also simply let it weather for a few more months and try the water test again.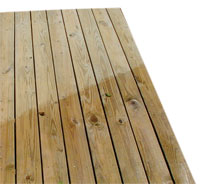 A clear wood stain has the shortest lifespan out of the three. Clear wood stains will allow the grain and texture of the wood to be totally visible. If you want to apply a clear stain, look for one that has special UV blocking chemicals. Pigment is what gives stain it's UV resistance and helps it prevent graying. Since clear sealers don't have any pigment, you'll need extra protection. Most clear sealers will vanish within a few short months.
There's a clear product out on the market called DEFY UV-Resistant Clear Wood Finish that has special UV blocking chemicals that give protection from the sun as well as waterproofing capabilities. One of the ingredients absorbs UV rays, and the other reflects the rays. This unique combination allow this clear deck stain to last up to 2-3 times longer than most other clear stains.  Make sure to read the labels very carefully before buying a clear stain. Do not assume a stain has waterproofing or UV resistant capabilities if the label does not clearly say so. It is likely that a clear stain will need to be reapplied at least every one to two years.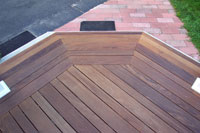 A semi-transparent stain is the step in between an opaque stain and a clear stain. This type of stain will give a tint to your wood but still allow you to see the natural grain and texture of the wood. The more tint the stain has, the greater the amount of UV protection it will give the wood. Semi-transparent deck stains are easy to maintain and generally can be reapplied every two to three years in order to keep your deck looking attractive and also keep it protected.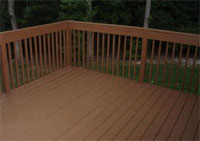 Finally there are opaque stains that allow very little to none of the grain to show through and a limited amount of the wood's texture. These stains protect your deck best from the sunlight and need to be reapplied every three to five years. The down side to opaque stains are that they are most likely to peel. Think of them like paint. When you apply them to horizontal surfaces, they get a lot of direct sun light damage, which can cause them to peel up. They are better to use on vertical surfaces only. They'll last a long time and won't peel like they do on horizontals.
If you are looking for the lowest maintenance type of wood deck stain, then typically you will want to stick with a semi-transparent stain. This will cause the least amount of work over time. They add a beautiful finish to your wood while allowing you to still see the grain and texture beneath. They don't normally peel like opaques do, and they last much longer than clear deck stains.
People appreciate clear and semi-transparent stains for the fact that they allow the natural beauty of the wood to shine through whereas others appreciate opaque stains because they can cover up unsightly gray or weathered fibers and create a lasting beauty that doesn't need to be reapplied very often. Decide what it is that you love about your deck already and choose a stain that is going to enhance that. If you love the natural look of your wood and don't mind the extra work of reapplying every year or so, then a clear wood stain is just right for you.
Make sure you read the directions very carefully and do exactly what they say. If you are asked to apply a second coat while the first is still wet, make sure you do so. Nothing ruins the look of a deck more than a poorly applied stain or finish.