New Colors for DEFY Extreme Wood Stain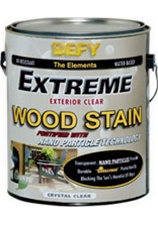 DEFY Extreme Crystal Clear Wood Stain was launched in 2008 and has absolutely taken off since. This product has been improved since with new Nano technology making an even more durable and protective stain. Coming this Spring 2010, after much tinkering done by the manufacturer, DEFY has finally achieved this level of quality in pigmented products.
Now available is DEFY Extreme Wood Stain in Natural Pine, Light Walnut, and Cedar Tone pigments, specially formulated to match the existing DEFY Epoxy Fortified Wood Stain colors.
When paired with the Epoxy Fortified Wood Stain, the Extreme Wood Stain will not only match in color but add improved long-term durability and fade resistance. Combining this Nano technology with the incredible power of the Epoxy Fortified Wood Stain is going to make for an incomparably beautiful deck that is protected better than has ever been offered before.