New TWP 1500 Series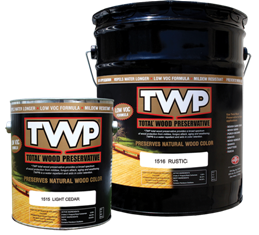 TWP or Total Wood Preservative has developed a new wood and deck stain called TWP 1500 Series. This new series will replace the discontinued 500 series immediately and eventually will replace the 100 Series.
The national government is leaning towards new regulations for architectural coating VOC restrictions. Currently the law allows 550 grams per liter. About 17 states have adopted a more stringent 250 grams per liter limit and the national government will follow within the next year or two.
The TWP 1500 Series is complaint with these new laws. Even though is has a 350 VOC limit, the 1500 Series has been labeled as a "preservative" for wood and decking. This allows for the higher VOC limit and this is extremely rare in the wood deck stain industry.
TWP 1500 Series offers many benefits to protecting and preserving your exterior wood and decking.
Preserves natural wood color
EPA registered wood preservative
Professional choice for all exterior wood surfaces
Semi transparent stain preserves natural color
Sheds water longer
Prevents mold and mildew
Helps prevent wood rot
Easy to apply and can be cleaned and re coated as needed
Helps in the prevention of warping, cracking and splitting
Low 250 VOC formula, compliant in 50 states
TWP is a registered trademark of Amteco Inc.