Best IPE Wood and Deck Stain
IPE wood is an exotic hardwood that is the most popular of the "Ironwoods" out of South America. It is used extensively for exterior wood deck construction in the United States. It is an extremely dense wood and is natural resistant to rot and decay. When an exterior transparent wood stain is applied to the IPE , the result is a beautiful rich look of brownish red tones.
The problem is that IPE wood stains typically last only 6-12 months before all the color is lost and the wood starts to gray. This is not the fault of the stain but the fault of the wood and lack of penetration into the IPE.
Fortunately we have pictures of the Best IPE Stain to date as far as color retention! These pictures were taken in Arizona at 5500 feet elevation. The top half of the board is Armstrong Clark in Mahogany color. The bottom half is Cabot ATO in Mahogany Flame color: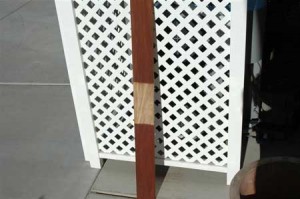 Now here is a picture after 14 months in the Arizona sun. The board was placed on a roof top facing south. In addition the wood has been exposed to heavy snowfall and frost: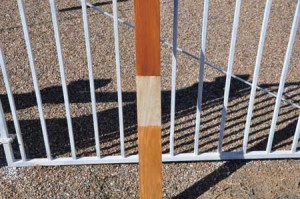 As you can see the Armstrong Clark Mahogany Stain has easily outperformed the Cabot and still holds color after 14 months in a high UV index. Here is another picture of comparing the Armstrong Clark Mahogany and the Cabot. This picture was take in the Sierra Nevada's.
This is after 12 months of exposure: