Restore-A-Deck's Two Step Deck Cleaning Products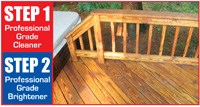 We highly recommend looking at the Restore-A-Deck products. They are highly efficient wood and deck prepping products. Available in different size kits, the packages consist of a Step 1 Wood Deck Cleaner and a Step 2 Wood Deck Brightener. Used together they will make sure you wood is properly prepped for a new coat of stain.
Some of the key benefits to Restore-A-Decks Products:
Faster Cleaning: Restore- A- Deck cleaners make the job go much quicker for you.
Bring life back to older, gray wood decks
Get rid of mold, mildew and dirt.
Prep new construction for stain.
Remove failing stain from your wood.
(R-A-D) will not remove solid or acrylic stains.
Please visit www.restore-a-deck.com website for more information regarding these products.