Storm Shield Deck Stain at Guthrie Lake
My home is a lakeside property on Guthrie Lake, which is a lake home community just north of Oklahoma City. I re-designed and re-built my front deck back in the summer of 2009 and once I had finished the re-construction work I chose Storm Shield as my exterior stain, wood protectant. I could not be more pleased with how Storm Shield Wood Stain applied, holds up to weather and wear and looks on my deck. I chose Storm Shield cedartone as my stain color and I get many compliments from passer-bys and neighbors about how nice it looks on the deck. My observation is that the Storm Shield cedartone goes on with a lot of  "vividness" which at first can almost seem too much, but once drying occurs the color becomes much richer and looks wonderful on the wood, see attached picture.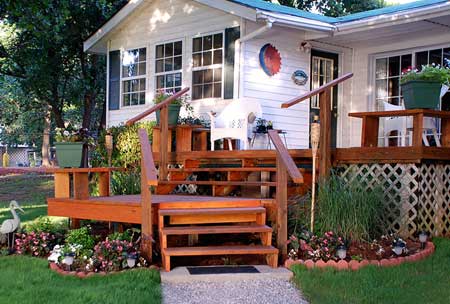 I use the deck often and have a good amount of foot traffic but the Storm Shield that was applied has held up very well. I will probably re-apply a new coat of Storm Shield next summer as it is finally showing just a bit of wear in the steps area but I will have gotten 3 full years of service from my application and that is better than I really expected given the challenging weather conditions of Oklahoma and my home being in a country environment.
Storm Shield customer
Doug Lacina