Deck Stain Turned Black?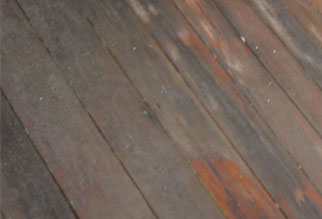 We have had many questions as to why a wood deck stain has darkened or turned black in color after a few years. There are many reasons why this can happen to any of the wood deck stains that are on the market.
Stain did not cure/dry properly. This typically happens from over application resulting in pollen, dirt, etc getting into the stain while still tacky. If pollen from trees gets trapped in the stain, then mold and mildew can grow causing the stain to darken in color.
Very wet climate resulting in mold and mildew growing on top of the stain or even in the stain.
Inferior stains containing "cheap grade" of linseed oil without adding the proper mildewcides to combat future growth of mold/mildew.
Very High UV index can darken the stain. Many wood deck stains contain trans oxides. If there is a tremendous amount of UV then the stain can darken in color.
General dirt and grime from trees offering little to no sunlight.
Some wood deck stains are more prevalent to darkening in color then others but by no means is this common issue related to just one brand.
Here is a list of Wood Deck Stains that are not prone to darkening in color: